Our stallholders' delightful personalities are the true gourmet ingredient behind the community atmosphere at Turra Produce!
Although there is nothing better than a visit to the market and a face-to-face chat, here is a sneak peek at these lovely people & their amazing products. 
Keep an eye on our Facebook or Instagram posts to find out exactly who will be at the market each week.
If you would like to join our stallholder community, you may apply here.
R & G Williams
Product – Free Range Eggs
Robin and Raewyn are the vibrant father and daughter duo that have been stalwarts of Turra Produce from its humble beginnings.
The free range eggs are Raewyn's project: the sale of which helps her fund her way through uni.
Additional Products :
Cut Flowers
Garlic, Rhubarb, Finger Limes, Limes
Honey
Product – TAR 10 Sauces & Relishes
Another long-time stallholder; Russ will regale you with stories from his many travels and, on a good day, you may even catch him singing!
Russell sells the award-winning range of sauces and relishes that hail from the Hunter Valley's TAR 10. The entire range is gluten and preservative free and made from the freshest Australian ingredients.
Product – Gourmet Cheeses
Our resident Italian and closet DJ, can sometimes be found swaying to the music at the market! Aside from his musical talents, Giorgio's knowledge of charcuterie is incomparable and once you try his range of cheeses, you will never want to go anywhere else!
Giorgio ensures that he only selects and matures the finest cheeses  from Italy, Spain and France!
Additional Products :
Cold meats – bresaola, prosciutto, ham, etc
Spanish Chorizo
Crackers, preserved fruits and everything else you need to make an attractive charcuterie platter
Product – Organic Fruit & Veg
Rita started the business in 2005 from humble beginnings, with a small family car and a few boxes of fresh herbs and veggies from the farm, that she took to a local market. With a passion for organic farming and trying new things, Rita's Farm Produce has flourished under her watch.
Rita's representative Eric, is at Turra Produce every Wednesday with a wide range of organic fruits and vegetables!
Product – Natural Soaps
Ross is zealous about ensuring that his business is both ethical and sustainable: he pours love into his products and even the shortest conversation with him will leave you filled with new knowledge on everything from the benefits of the ingredients in his range to art, music and travel.
Duck's Cottage is dedicated to hand crafting natural soap products using a combination of ancient and modern techniques from around the world. Each product contains all natural and organic ingredients.
Additional Products :
Shaving Soap
Laundry Detergent
Body Lotion
Product – Beverages
Not a coffee-drinker? Not a problem! In addition to his aromatic coffees, Aydin also serves up a ranges of teas and other beverages that will leave you thirsting for more.
Sometimes he even has donuts and a cookie for that extra sweetness!
Additional Products :
Tea
Hot Chocolate
Soft Drinks
Donuts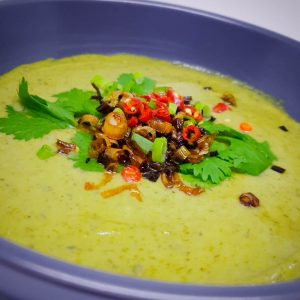 Product – Hot Food
From bacon & egg toasties, to soup for those chilly days. Suzanne brings her "Sri Lankan Fusion" culinary style to the market every week.
If you purchase items from the market, Suzanne will even cook them free of charge.
Additional Products :
Order custom-made meals to be picked up or delivered from the market every week.
Product – Plants
Craig is the market's gentle giant, soft spoken by nature, he is unquestionably the plant whisperer and he is yet to meet a plant that he could not grow.
Craig's vast collection will cater to all your gardening needs from the practical fruits, vegetables and herbs, to the decorative flowers, succulents and cacti.
If Craig is not at the market, his equally knowledgeable wife, Maryann will be able to help you out.
Product – Churros and South American-inspired Burgers
When she is not cooking, Bel is an enthusiastic advocate for chemical-free, sustainable living, and she is obsessed with being grammatically correct!
Bel's vegan churros are made fresh on site and served with chocolate dipping sauce; she also makes her own chorizo and signature chimichurri.
Additional Products :
Haloumi Burger
Porridge
Products – Athleisure wear
Tanya's energetic personality is the ideally suited to her business. 
Just as her business name denotes, Tanya's range of activewear is both functional and stylish all at once.
Product – Spices and Sauces
Bel's unconventional approach to just about everything, combined with her life's journey have enabled her to formulate a delectable, versatile range of sauces and spices that can be used to cook anything from vegetables to seafood and meats.
She is devoted to ensuring that she lives a more sustainable existence, both in her personal life, as well as in her business. Bring back your empty jars; Bel will be happy to re-use them!